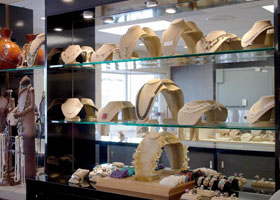 At the young age of eight, Garo Tutunjian learned the art of goldsmithing from his uncle. In 1960, he made his way to the US from Amman, Jordan, seeking the American Dream. He landed in Beverly Hills and began working for "The Hand of Gold Original Jeweler," designing and creating their jewelry inventory piece by piece. In the late 1960's he designed and created a pendant that caught the attention of the jewelry storeowner who then entered the piece in a contest. He called the piece "Stained Glass Windows." It won first place and received the International Diamond Award.
A Reputation for Excellence
After working for other jewelers in the Beverly Hills area, Garo decided to venture to downtown Los Angeles and opened a jewelry factory, mass-producing many of his designs for jewelers all over the world. He made mountings for Hawaiian Pearl Divers to place on oyster shells so they could be bought and opened by tourists to reveal a real pearl. He also made the wedding bands for the Orange Blossom Wedding Band Company. One of his clients, Vern Hearst, moved to Palm Springs and Garo would deliver the goods to him personally. Palm Springs was "love at first sight" for Garo, and he soon made the move.
New Beginnings in Palm Springs
In 1974 Garo opened his factory in Palm Springs and started working for many of the fine jewelry stores, including Laykin et Cie, Andrea Howard Leeds, Bullocks Wilshire, Saks Fifth Avenue, Leeds Jewelers, Robann's Jewelers, Santa Monica Gold Rush, Goodman Jewelers, and Madison & Co. Garo became known as the "Jeweler's Jeweler." In 1976, Garo and his new wife, Jacci opened their first jewelry store on Palm Canyon Drive and became Palm Springs' first wholesale jeweler. They still have many of the same customers they had from the day they first opened that store.
Serving the Famous
Garo moved to a larger store in 1990 in Smoke Tree Village Shopping Center, Palm Springs and immediately gained a new clientele by word of mouth. He designed jewelry for many celebrities. Some of the "oldies" were Alice Faye, Phil Harris, and Mousie Powell. Elvis was even wearing a Star of David that Garo made for him when he passed away. Bob Hope was a favorite. He would call Garo and say, "Hey Bandito. I'm coming in to buy something for my wife so sharpen your pencil!" The staff had to lock the door because everyone would start piling in to get Bob's autograph. There were many others– Stallone with Brigitte Nielsen, Victoria Principle, Barry Gibb, Zeppo Marx, to name a few.
Philanthropic Ventures
Smoke Tree soon became involved with local charities. Garo was commissioned by the Agua Caliente Band of Indians to design a special piece of jewelry pertaining to their culture for their Museum Benefit every year. He also designed the logo for the Stroke Center when they first established the Foundation.
Maintaining Greatness
Garo, now 77 years old, is still working part time at the bench. He brought in his children, Marisa and Jeremiah so that they could carry on with the legacy of giving people the quality and the special service they deserve at the best price. Jeremiah is a certified designer of jewelry. He graduated from San Diego State University with a degree in design and continued his education at GIA. Jeremiah has built his own reputation for distinctive jewelry design and knowledge of Grand Complication Watches, such as Patek Philippe, Vacheron Constantine, and Cartier, Rolex, Baume & Mercier, etc. Marisa assists in all aspects of the store's operation, also designing and caring for customer needs. She is an asset to the jewelry store and its clientele.
[button link="https://smoketreejewelers.com/?page_id=101″ size="large"]CONTACT US[/button]