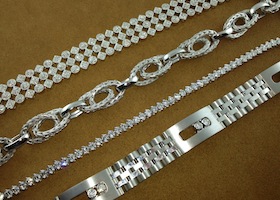 When it comes to jewelry repair, Smoke Tree Jewelers is pleased to provide premier service. We take pride in knowing that our customers are completely satisfied with their jewelry. Our top priority is to return your valuable items in a timely manner and in the best condition possible.
If you have a piece of jewelry that is missing a gem or stone, or has a broken clasp, the safest option is to take it to a jeweler who can repair it for you. Many people may want to try to repair it on their own; however, it may not turn out the way they expect. A professional can ensure that it will be repaired effectively and properly so that it looks and functions like it did before it needed the repair. Our experts at Smoke Tree Jewelers are trained and experienced in repairing jewelry from loose stones or gems, to broken clasps or chains, to many other problems you may have with your jewelry.
It is important to bring a piece of jewelry in for repair if it has a loose setting, since the chance of losing the stone or gem will be much greater. The best way to prevent losing a valuable piece of jewelry, stones or gems, is to schedule a cleaning once a year. Our professionals will check your jewelry during the cleaning for any loose gems or stones, or bent clasps that could result in further damage or loss of stones or gems.
Avoid losing a precious piece of jewelry if it has a broken clasp or needs repair by having it checked as soon as possible! If your cherished necklace, ring, bracelet, earrings, or other piece of jewelry need repair, call Smoke Tree Jewelers today and our experts will be more than happy to speak with you and answer any questions you may have!
[button link="https://smoketreejewelers.com/?page_id=101″ size="large"]CONTACT US[/button]