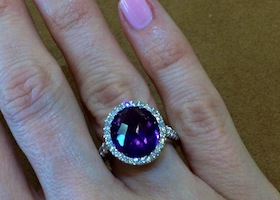 Not only does Smoke Tree Jewelry sell beautifully designed rings, but we can customize any of our rings, as well! If you are looking for a specific kind of ring that we don't have, just let our experts know and we can help create it for you!
Our rings are one of a kind, especially when you personalize them! If you want a different gem inside a setting you like, we will switch out the gemstone. Or perhaps you want a different band such as rose gold or sterling silver – we will customize that, as well! Another specialty of ours is ring engraving. We understand that adding a special message or initials inside the band of your ring will make it even more unique! If you are giving a ring to your significant other or family member, engraving a ring will add an extra sentimental value to that ring. Customizing a ring for a gift is absolutely the best way to surprise your loved one. We are always happy to hear how much our customers love their customized jewelry, and it is our utmost priority to provide amazing customer service. Our experts are willing and ready to help you find and personalize any ring, making it a ring that will be treasured forever!
Be one of a kind with our completely customizable rings! Avoid blending in with a monotonous ring, and customize your ring today. Our experts will be more than happy to help you create the ring you have always dreamed of!
[button link="https://smoketreejewelers.com/?page_id=101″ size="large"]CONTACT US[/button]