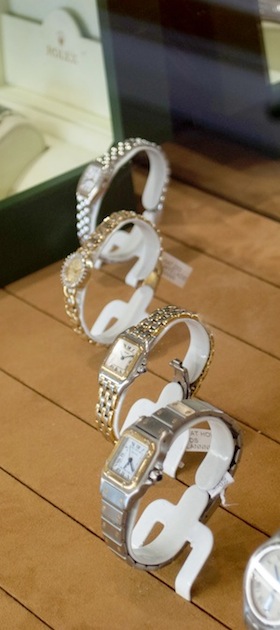 Watches contain many intricate pieces that all work together to tell time. If one of those pieces is disrupted, gets broken or malfunctions, your watch will no longer serve its purpose. A well-maintained watch should last you a lifetime. That is why we are pleased to provide our customers with exceptional watch repair services.
Even if your watch isn't from our store, we want to help you repair any problems you have with it from a broken or missing piece, to crystal repairs, to a simple battery replacement. Our experts are knowledgeable and will be happy to examine your watch and find out exactly what the issue and is and how to fix it. We take pride in our excellent customer service, and will take great care in a thorough and efficient repair for your watch, so that you can rest assured that it will be returned to you in the best condition possible. We want your watch to work like brand new again!
A beautiful, classy watch is a fashion statement and a part of your daily wear. But without a battery replacement or a parts repair, it becomes only an accessory. Smoke Tree Jewelers is please to help your watch not only make your style shine, but also keep it running smoothly so that you will always be on time!
Don't inhibit yourself from telling the time because of a broken watch! If you need a battery replacement or a part repaired, call Smoke Tree Jewelers today to learn more about our watch repair services.
[button link="https://smoketreejewelers.com/contact-us" size="large"]CONTACT US[/button]