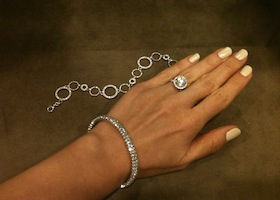 Smoke Tree Jewelers carries an incredible selection of engagement rings that your loved one will be sure to adore! We are pleased to offer exceptional customer service and will custom design your engagement ring.
If you have a specific idea of what you are looking for, our experts can help you create it. Whether you want a certain type of ring band, such as white gold or gold, or a certain cut for the diamond like princess cut or round, the number of diamonds, the size, and much more, we can customize it for you to create the absolute perfect ring that will dazzle and impress your loved one! Our highly trained and experienced professionals know how to help you design and create the ring that will be the best fit for that special person in your life. An additional customization that is extremely popular is ring engraving. We can engrave any special message you want, like both of your initials, or a personal and meaningful note that will enthrall your loved one. We ensure it will be a piece you and your partner will cherish forever!
Don't waste time searching for the perfect ring that you have in mind. Come into Smoke Tree Jewelers today to customize an amazing engagement ring that you want to wear with pride and joy. Our experts will be more than happy to work with you to create your dream ring!
[button link="https://smoketreejewelers.com/?page_id=101″ size="large"]CONTACT US[/button]