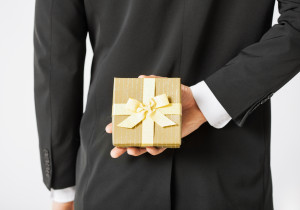 The holidays are just around the corner, which for many of us means it's time to start shopping. Coming up with the perfect gift idea for each person on your list is often the hardest part of the holiday season! Putting in a little effort always goes a long way in the end.
Jewelry is usually a safe bet when it comes to giving your significant other the perfect present. But "jewelry" is unbelievably vague and could encompass an endless amount of styles, sizes, types and more! That's why we are here to help. If you've made the decision to give your wife, girlfriend, mother, daughter or friend a piece of jewelry this holiday season, we have some tips to help you navigate through the endless options available to you.
The first step in this process is a simple one: observe. What kind of jewelry does she usually wear? Is her collection primarily necklaces, bracelets, earrings or rings? She may be more comfortable wearing one piece over another. After that, tune into color. What gemstones, if any, does she primarily wear? Does she tend to wear more gold or silver? Is there a color in particular that she likes to wear more, whether at work or at home? Matching jewelry to the clothes you know she frequently wears is a great way to find a piece she'll enjoy showing off.
The other factor to consider is size. If she is average size then most jewelry will fit, and you can almost always get a piece re-sized by your local jewelers (especially by our expert staff here at Smoke Tree Jewelers!). If she seems to enjoy wearing longer chains when she wears necklaces, make a note of this. Does she wear stud earrings or larger, dangling pieces? Does she wear dainty, small chains with subtle stones, or larger, bold statement pieces that stand out against her outfit? If you start to take note of these little details, it won't take long to gain an understanding of the kind of jewelry your special somebody might love.
After you've done a little spying, it's time to outsource a bit! Ask her friends for advice- not only will they have insight you may have missed, but they'll almost always be happy to help. Again, it's the effort that counts, and using all your available resources is certainly putting in effort.
Figuring out the general style of jewelry you might be looking for is the first and the hardest step. After that, you simply need to take your ideas to our expert jewelers who are happy to help you find the perfect piece. Our last words of advice are these: don't be afraid to take a risk. Taking the time to think about what she may like, going out on a limb and purchasing a unique and beautiful piece just for her is sometimes the best part of a gift, regardless of the item you end up choosing. We can't wait to help make your holidays special this year!