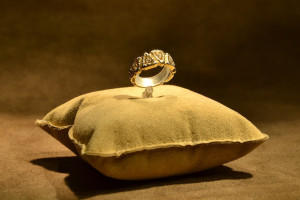 If you've ever visited us here at Smoke Tree Jewelers, you know that we have a real passion for what we do. We love being able to design, create and share our wonderful custom jewelry with you! But did you know that we have another love as well? We are true animal lovers! And for the first time, we have been fortunate enough to find ourselves in a situation where these two passions collide.
Mary Bayley Kahn, a local resident and animal lover, recently passed away. Among her many assets was a beautiful and extensive collection of jewelry. In her last will and testament, she generously left this entire collection to a local animal shelter and hospital called Save a Pet. Being known for our large estate section and consignment services, Save A Pet came to us in order to help them turn this generous donation into liquid assets. Because we are such animal lovers, we jumped at the chance to volunteer our time and resources to help this shelter liquidate the donated jewelry to provide funding for their noble charity! The collection of rings, necklaces, bracelets, earrings and even watches will be on display in our store, and as per Mary's wishes, all proceeds will go to Save a Pet.
What is Save a Pet?
Save a Pet is a no-kill animal shelter that has been helping rescue and care for animals for 30 years. They also run a low-cost animal hospital at their Desert Hot Springs location. As they state on their website, "The mission of Save A Pet is to rescue animals in danger, provide healing medicines, treatment, food, shelter, and place them in permanent loving homes." This is certainly a cause that we animal lovers can get behind!
How Can You Help?
Mary's jewelry is on display now in our store. We can help you find the best pieces to fit your collection, and you can feel good knowing that you are helping fulfill such a generous woman's final wishes.
Contact us to learn more, or visit Save A Pet Online for more ways to get involved.